COMPAMED 2019 showcases the entire spectrum of supplier
2019-11-20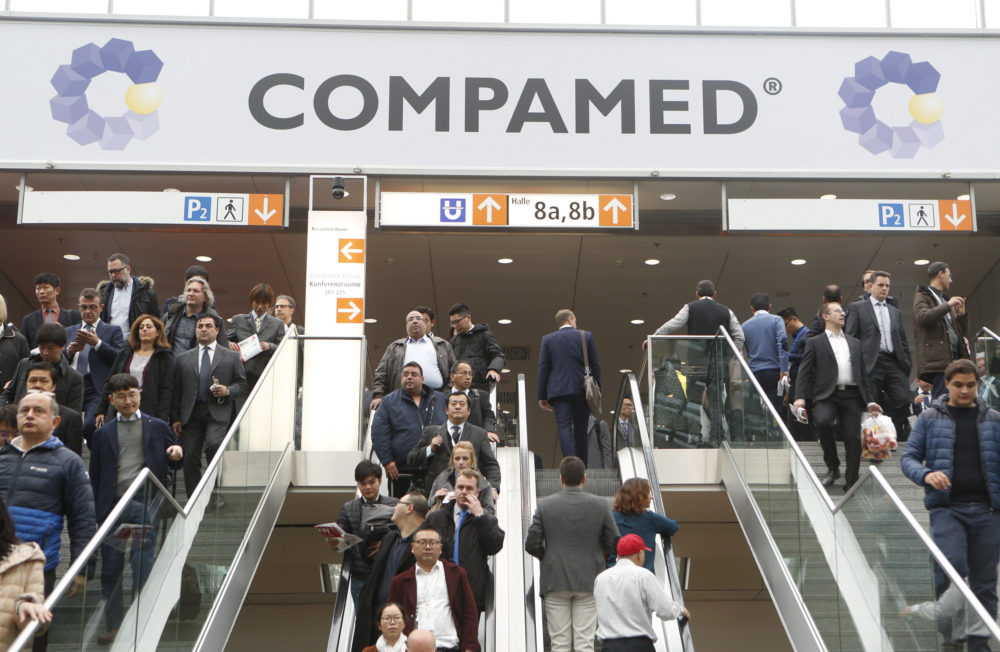 In the middle of November (from 18 to 21 November 2019), COMPAMED, the international leading industry platform, will showcase the entire spectrum of supplier expertise for the medical technology industry in Düsseldorf once again. From catheters to pressure sensors, from hip implants to packaging machines, from labs-on-a-chip to new materials for devices or hygiene-critical surfaces, the astounding innovation shown by our almost 800 exhibitors from 41 countries is on stage in trade fair halls 8a and 8b. As always, COMPAMED takes place alongside its tried-and-trusted partner MEDICA, the world's biggest medical trade fair (5,300 exhibitors from 69 countries).
Plastics are becoming more sought-after as innovative materials in medical technology because they are not only lightweight but also often have other properties that are indispensable for this range of applications. These qualities include mechanical durability, biocompatibility and the fact that they can be sterilised and also be used in creating clean rooms in order to meet the stringent hygiene requirements for implants and blood-conducting systems.
Recently, Evonik Venture Capital invested in Meditool, a Chinese 3D printing start-up company that manufactures implants for neurosurgery and spine surgery. This technology enables faster healing and fewer post-operative check-ups for the patient and a lower level of risk for doctors during operations Meditool develops its own hardware and software systems that can read the imagery from current MRI (Magnetic Resonance Imaging) and CT (Computed Tomography) scans directly and process it. The software generates a printable 3D model from this data and sends it to a printer. The printer creates the implant as a 3D printout with the high-performance polymer polyether ether ketone (PEEK) supplied by Evonik (Hall 8b, Stand E24). "The technology from Meditool fits in perfectly with our strategy to expand our business in high-tech applications for our 3D printing materials", says Thomas Grosse-Puppendahl, head of the additive manufacturing innovative growth field, and adds: "Medical applications are of particular interest to us here. Our high-performance polymers have already proved themselves as reliable implant materials in the dental sector, among others."
Revolutionary implants made of plastic
For patients and doctors, 3D printed PEEK implants are revolutionary in comparison to metal implants, which is currently the usual solution on the orthopaedic implant market. 3D printing enables the implant to be tailored to the individual so that a plate can be perfectly fitted to the patient's skull shape, for example. This reduces the likelihood of further interventions which may be required to adjust the size, form or position of the implant. In addition to this, PEEK conducts less heat than metal does. For patients that are exposed to high or low temperatures, this means that the implant will not become excessively hot or cold. Furthermore, the material is biocompatible and is therefore not harmful to living tissue. CT and MRI scans can also be executed following the operation.
Wearable electronic patches are already used in many areas in medicine and also in patient monitoring and diagnostics. The market demand for these is increasing rapidly in correlation with the advancing digitalisation of the healthcare sector. The design of these patches enables a variety of applications to be used to monitor vital parameters without severely limiting the patient's mobility. Wearables must, in any case, be worn on the skin constantly for an extended period of time. This means that they must protect the skin but also adhere to it sufficiently. They should also be as painless as possible to remove. Taking all of this into consideration, Covestro proffers material solutions for improved patch design. Their array is the answer to growing consumer demand for more comfort when wearing these devices. This plastic company has come up with material combinations to create light, flexible and barely visible plasters that are pleasant to wear. To this end, Covestro has developed special active-breathing polyurethane films (TPU ) in the Platilon range. The materials are manufactured in a roll-to-roll process which enables wearables to be produced efficiently. The electronic product can be printed on the film and embedded in thermoformable polyurethane foam. It is then coated with a second sheet of film to increase wearer comfort. The plaster is then stuck on with an adhesive that is specially formulated to be gentle on the skin, which provides firm adhesion but also enables the plaster to be removed painlessly. Covestro (hall 8b, stand H30) thus offers a fully-fledged solution for high-quality modern patches.
The French company CG.TEC Injection (hall 8a, stand G19) is also making waves in the plastics business as a leading partner in precision injection moulding of technical plastic parts. This process is indispensable for medical technology, particularly for lab-on-a-chip systems. CG.TEC will take over the manufacturing of these microfluidic parts, from design to production. The tools for this will be developed and produced in-house.
Picosecond laser systems for medical technology
Coherent (hall 8a, stand F35) is a company that specialises in industrial picosecond laser systems. At COMPAMED, Coherent presents its compact laser cutting system, the ExactCut, for processing thin and thick metals and alloys, including brittle materials such as sapphire, PCD and ceramics. The StarCut Tube SL precision laser system is particularly well-suited to cutting medical implants (such as stents) and instruments. Another product, the ExactMark, is intended for marking and black marking (unique device identification, UDI) stainless steel for medical technology.
microsensys (hall 8a, stand H29) produces miniature tags which use RFID technology for sample and instrument identification. These are sterilisation-resistant and can be used in pre-purification of surgical instruments. They can provide data for clear identification and process management, such as for sterilisation processes. The TELID311.ac temperature data logger furnishes seamless and efficient temperature monitoring during autoclave steam sterilisation under conditions reaching up to 134°C and 3 Bar. This logger can thus document the specified temperature curves in practice with certainty for periodical inspections.
IVAM Microtechnology Network
CG.Tec, Coherent and microsensys are united under the same umbrella; these innovative companies are all exhibiting on the huge IVAM Microtechnology Network joint stand in hall 8a with around 50 other companies. The main focal subjects for the IVAM Microtechnology Network are microfluidics, sensor technology, microelectronics and optical technology and their applications, such as laser procedures. Dr. Thomas R. Dietrich, CEO of the IVAM, states how significant microfluidics is for medical technology: "Mobile diagnostic and therapeutic devices cannot be created without microfluidic components that process small amounts of fluid". This topic is one of the highlights of the COMPAMED HIGH-TECH Forum, which has been a popular part of COMPAMED for many years. "This year, it will be further reaching and more international than ever before; we are holding 11 sessions with around 70 high-profile speakers from all over the world", says Mona Okroy-Hellweg, Spokeswoman for the IVAM.
The COMPAMED HIGH-TECH Forum becomes even more international
The huge amount of international interest is reflected in the special sessions in the program: Monday 18 November kicks off with a "Dutch session" which shows the innovations from the Netherlands. On the following day, Tuesday, three presentations on the medical technology market in Japan and Japanese companies' interest in the European medical technology market take the spotlight. In essence, the most popular topics from previous years are remaining in trend at the forum and will be allotted their own sessions again this year: "Printed Electronics und 3D-Printing", "Laser and Photonics Applications", "Smart Sensor Solutions" and "Microfluidics for Diagnostics and Life Sciences".
In addition, the forum will showcase two premiers this year: New topics such as the "Digitalization of Medical Equipment" session form one part of this, and the other component consists of completely new presentation formats. A session titled "Equipment Manufacturer meets Component Manufacturer" proffers a session that allows equipment and component manufacturers to get to know each other by giving company pitches will be held for the first time.
The companion to the HIGHTECH Forum in hall 8a is the COMPAMED Suppliers' Forum from DeviceMed in hall 8b. This year marks its 8th edition, and it gives a panoramic overview of all of the aspects of development, manufacturing and approval of medical products. It covers the entire value-added chain across all realms of technology and more, from electronic manufacturing to plastic and metal processing, over the four days of the trade fair. Presentations are slated to begin at 11 am from Monday to Thursday. The sessions for the most popular topics will take place at midday. This year, these include electronics, additive manufacturing and regulations and formalities. "This means that visitors receive an update on both the exhibitors' offers and current trending topics", promises Peter Reinhardt, Editor-in-Chief at DeviceMed and responsible for selecting the presentations.
Micro camera systems for neurosurgery and ophthalmology
Imaging procedures continue to play a major role in medicine and medical technology. Panasonic (hall 8b, stand H33), a big provider in this segment, has therefore consistently expanded its palette of industrial medical vision cameras. The OEM micro camera systems offer flexible high-performance technology solutions that have already proved themselves in neurosurgery and ophthalmology. These high-quality systems can easily be integrated into different applications, depending on the user's requirements. Comprehensive support from Panasonic reduces development times, unexpected risks and unnecessary investment. Furthermore, interfaces with multiple formats and outputs guarantee maximum compatibility and user-friendliness. This is all completed by a surgical video display system, "Industrial Medical Vision" (IMV). It was specially developed for a multitude of applications such as medical training and surgical documentation.
A double defence against bacteria on implants
The Fraunhofer Gesellschaft is represented by its many institutes across many stands at this year's COMPAMED. Four representatives (IFAM, IME, IZI and ITEM) will showcase their solution (the Synergy Boost project) for fighting infections when implants are placed on the joint stand (hall 8a, stand H23). Inserting hip or tooth implants is a routine procedure. However, these interventions are not entirely risk-free. For instance, infections can be contracted that can only be contained with difficulty, via treatment with antibiotic tablets or IVs. In these cases, the implant generally has to be replaced with a new implant. Fraunhofer researchers are now coating the replacement implant with targeted medication to fight the causative bacteria and are also multiplying the effectiveness of the antibiotic synergistically by using silver ions. Kai Borcherding, a scientist at Fraunhofer IFAM, explains: "In addition, we have researched the synergistic effects of antibiotics and silver ions and can thus increase efficacy significantly". This means that both the antibiotic and the silver ions kill bacteria, but the cumulative effect packs more of a punch than all of the individual actions it combines; these mechanisms bolster each other.
Firstly, the bacteria and the antibiotic to treat it are defined. Then the antibiotic is applied directly to the implant. "We have developed a variety of different coating methods for this", says Borderching. The result: The researchers structure the surface so that the antibiotic can be impregnated into it. The coating, which contains silver, is applied to the surface of the implant in a vacuum.
All of the aforementioned examples show that the suppliers are strong partners for the medical technology industry, which benefits from this close cooperation more than ever in a time when trade restrictions are more stringent, approval processes are tougher and margin pressure is higher.