MEDICA HEALTH IT FORUM: From artificial intelligence, fake data, 5G to digital twins
2019-11-20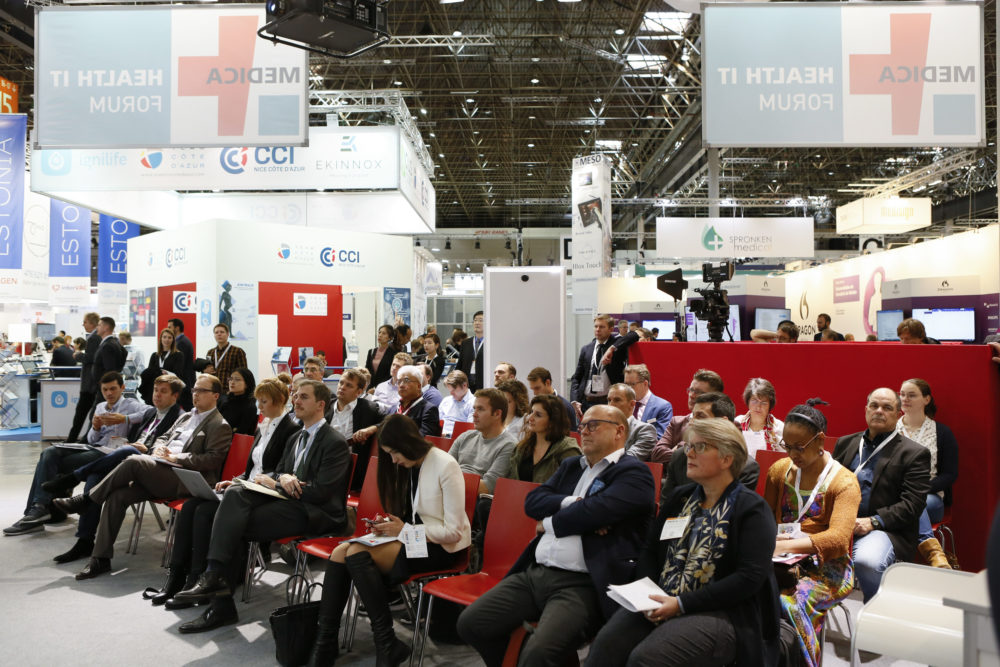 "Raise your voice! How voice tech puts patients in the centre" — This is the call that launched this year's MEDICA HEALTH IT FORUM (MHIF) on 18 November 2019 at the world's largest medical trade fair MEDICA in Düsseldorf into the first session of its consistently English language programme (MEDICA run time: 18–21 November 2019, Monday to Thursday). The stage in Hall 13 (Stand E82) will then be the venue for digitised voice recognition: "What sounded futuristic just a few years ago, has now entered the health care sector and has already become the standard in many countries," explained Dr Nana Bit-Avragim, digital health expert at Brandenburg Medical School Theodor Fontane, in the runup to the session. This trend is being fuelled by the triumphant progress of virtual assistants and apps like Alexa and Siri, which are now to be found in a growing number of everyday fields. Bit-Avragim believes that the significance of voice recognition will continue to grow for health care applications in Germany following the planned Digital Services Act. This act is to help simplify patient access to digital health services, e.g. via apps prescribed by doctors.
Zana, for instance, offers a good mix of voice recognition and innovative technology. This German-Albanian startup has developed an interactive health assistant based on AI (artificial intelligence). Zana interacts with the user over various channels such as internet chats and speech. At the MHIF in Düssedorf, cofounder Dr Julia Hoxha will be illustrating the extent to which data, e.g. from cardiology, can be collated from various sources like continuous ECG, heart rate measurements, and non-invasive blood pressure measurements. Intelligent voice recognition gives the patient in their correct order the right answers to key issues, specifically to auricular fibrillation.
On the other hand, "My Diabetes Coach" (from macadamian) is an example care management platform that uses Amazon's Alexa to help people to manage their diabetes properly. Timon LeDain, Director of Emerging Technologies at the company, will be reporting in Düsseldorf on the current progress this has made.
Data coupling for recognising emotions
Besides the latest news and innovations, MHIF is also, of course, providing a look into the future of voice recognition in the health care sector. "It will develop continually in line with other technologies. Key fields are the recognition of emotions and faces," predicts Bit-Avragim. She mentioned examples in the USA and China where face and voice recognition are being coupled. Technologies like these, she concluded, are particularly important in the field of mental disorders. The potential benefits offered by this linking of various data are shown in Ipsilon, a Japanese-Dutch-German-US startup project that attempts by means of a music algorithm to detect the earliest signs of Alzheimer's and dementia. According to this, the first symptoms would be detected as early as ten years before its manifestation in about 85% of cases. Dr Bit-Avragim sees in this a trend towards preventive health care.
"We are not talking just about voice recognition or just about AI, but about linking the most diverse technologies for diagnostics and prevention. It starts getting really exciting when, for instance, the vocal tone, the rhythm, or volume is also included as a kind of voice biomarker in the analysis. Information like this could support rescue teams or caregivers in performing precise diagnoses on patients with cardiovascular issues or mental diseases," elaborates Dr Bit-Avragim.
All this, though, she admits, is possible only when there is data security. And she continues that especially when these are being linked, the patient must still retain the overview of their various sources. She confesses immediately to an option for greater data security – the embedding of cloud based voice recognition in protected hospital infrastructures. And concedes that there are such solutions for Alexa based applications.
Developments powered by 5G technology
As an actual instance in Germany, the launch of the new 5G standard for mobile data transfer is expected to fuel developments in digital health services. Especially in the telemedicine fields, this could lead to new solutions in rural areas. Hosted by Professor Björn Bergh, Chief Digital Officer of the Schleswig-Holstein University Hospital, an MIHF panel consisting of Tomer Epstein (IEI), Monika Gatzke, (Competence Center 5G.NRW), Thomas Heyn (Fraunhofer IIS), and PD Dr Michael Kranzfelder (Chief Consultant at the Department of Surgery of the Klinikum rechts der Isar, Technical University of Munich) will be discussing on 19 November this near future under the heading "5G — der Weg zum medizinischen Datenmanagement in Echtzeit" ("5G — The road to medical data management in real time").
How digital twins are enriching medicine
Should people with medical issues be able to access a twin in the new virtual world? Answers to this will be provided at another session of the MEDICA HEALTH IT FORUM on 19 November (from 2:30 pm). Here will be discussed the extent to which digital twins can improve health care for their human, i.e. physical twins. This session will be hosted by Christina Rode-Schubert of Orange itb GmbH. She explains the meaning of "digital twin" as follows: "It is about transferring real objects to the virtual world in the form of big data analysed by AI algorithms." One key application is in the research field.
The heart can be found at the focus of the work by Dr Tobias Heimann, who will be reporting at the MEDICA HEALTH IT FORUM. As Head of Artificial Intelligence Germany for Siemens Healthineers, he works on a virtual heart. Since Siemens can exhibit a wide product portfolio and years of experience in the cardiology field, it can therefore provide valid databases. These can be used to map the digital twin of a human heart's physiological system. Supported by multiscale models, electrophysiology, biomechanics, and haemodynamics, Siemens is collaborating with partners in the simulation of trends in specific patients and their response to treatment. After all: every heart is different.
From the single organ to a complete twin
Following research on individual organs as virtual maps, the focus of course has long been shifting towards the "whole"; in other words, the complete virtual mapping of a human being. And in the person of Prof. Dr Gerald Urban, of the Department of Microsystems Engineering IMTEK at Freiburg University, the MHIF will be welcoming a speaker who intends to realise just these dreams. IMTEK is one of the supporters of the European research initiative "DigiTwins".
Comprising more than 200 partners from industry, economy, and clinical research in 32 countries, this community is working towards establishing a personal digital twin for each and every European citizen. It intends to revolutionise the health care sector and biomedical research for the benefit of the citizens and society and, by creating digital twins, to afford a contribution to the European strategy for a digital domestic market. This intended target may be seen as overly ambitious. For, with respect to Germany, it is not even clear at present which of a patient's data at all should be integrated in his electronic file, not to mention the data protection aspects. Such projects depend crucially on adequately large quantities of reliable data to feed the artificial intelligence.
So will there be now fake data after fake news?
Against this background, Alexandra Ebert's presentation in the afternoon panel at MEDICA HEALTH IT FORUM is expected to rivet the attention on 19 November. Ebert works for the startup mostly.ai. This company's synthetic data engine "GENERATE" is designed to generate an unlimited number of highly realistic and representative synthetic customers that correspond to the patterns and behaviours of actual customers on a hitherto unparalleled level. This data engine, therefore, analyses customer data to generate anonymised, synthetic data for the properties and activities of real people — but no longer traceable and therefore in no need of data protection. Yet, can such systematically generated fake data be implemented meaningfully in health care? This question will be discussed at the MHIF at MEDICA 2019.
In the meantime, Ibo Teuber will be demonstrating what the health care sector thinks of digital twins. He is the Health Care Director at the corporate consultants Deloitte. In a study, Deloitte promoted the vision of a supra platform for unlimited networking, based on the Internet of Things (IoT). To date, though, it admits that the highly fragmentary IoT ecosystem with its separate applications and numerous closed platforms hinders comprehensive interoperability. The setup of a universal, open supra platform could in future create the basic requirements for real, digital value creation — and here, the health care field would be one of many. The MEDICA HEALTH IT FORUM will be casting light on the many and varied aspects and the challenges offered by digital twins in the health care sector.
Deep learning based on neural networks
One particular form of AI is based on deep learning. The corresponding MHIF session will be presented on Tuesday, 19 November, starting at 3:00 pm, by Dr Stefan Rüping, Head of the Knowledge Discovery Department at Fraunhofer IAIS. Deep learning based on neural networks is one of the possible analytical methods for evaluating big data. The Berlin Charité, for instance, is running a research project that applies deep learning to derive from neurological imaging the prognoses for a patient's future development. This focuses on the early detection of multiple sclerosis and Alzheimer's. Professor Kerstin Ritter, Junior Professor of Computational Neurosciences at Berlin Charité, will be delivering the keynote at the MHIF.
One thing is clear: an AI that analyses quickly and precisely medical diagrams and appointment records, can assist doctors in recognising diseases that otherwise may have escaped notice, predicts probable patient findings, proposes treatment options, and even identifies promising candidate patients for clinical studies. Exploring this field is, amongst others, NVIDIA, a specialist in graphics processor based deep learning whose representative Maximilian Baust, Senior Solution Architect Industry Manager, will be appearing at the MHIF in Düsseldorf.
Marketplace for artificial intelligence
Early this year, Telepaxx Medical Data GmbH launched the first marketplace for the development, testing, quality assurance, and commercial application of medical radiology applications based on artificial intelligence. Since 1996, Telepaxx has been filing, storing, and transferring medical images and data in compliance with the data protection laws, running for this purpose a number of data centres in Germany. This Franconian IT company sees itself as a pan European market leader with over 600 customers — and advertises the fact that it runs the largest medical image archives in Europe with over 13 billion image data records. At Telepaxx, Thomas Pettinger is responsible for the business development and project management for this marketplace and will also be present at the MHIF deep learning session.
The subjects show: this year, too, the MEDICA HEALTH IT FORUM provides insights into the latest digital health trends in the sector, presented by the scene's top speakers. Following examples of modern, user friendly health care (by means of e.g. voice recognition) on the starting day of MEDICA 2019 and the focus on "Big Data & Artificial Intelligence" the following day, Monday, 20 November will see international and EU powered digitisation processes ("Digitisation in Health without borders") before the final day illustrates e.g. the social aspects (e.g. more consumer orientation in health care) under the leading subject "Socio-political determinants & healthcare trends".