New vaccine to 'provide 2-year protection'
2021-03-03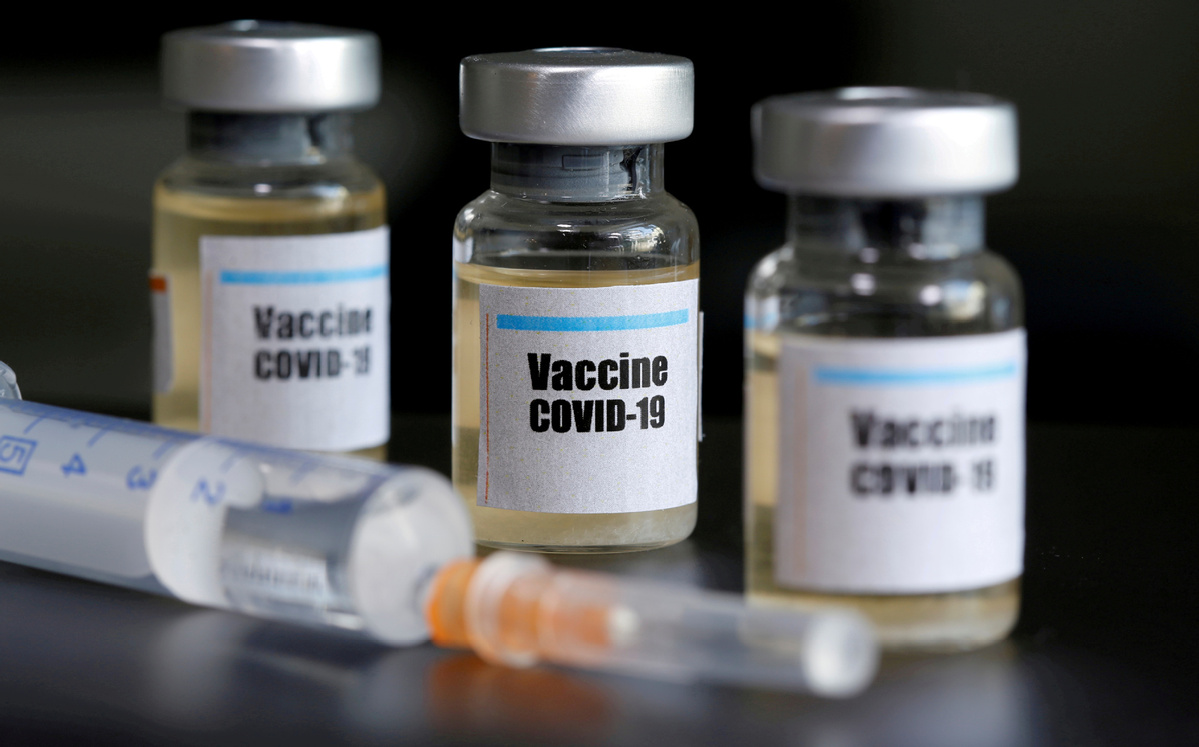 Small bottles labeled with a "Vaccine COVID-19" sticker and a medical syringe are seen in this illustration taken April 10, 2020. [Photo/Agencies]
An adenovirus vector vaccine against COVID-19 by CanSino Biologics is projected to provide protection for two years if a booster shot is administered, said a scientist who played a key role in the vaccine's development.
The Chinese National Medical Products Administration granted conditional market approval to the vaccine on Thursday.
The vaccine, called Ad5-nCoV, has an efficacy rate of 65.7 percent at preventing symptomatic cases and is 90.9 percent effective in preventing severe disease with a single injection, according to interim analysis of late-stage human trials released in February.
The vaccine uses a genetically modified adenovirus-a common type of virus-to carry an antigen from the novel coronavirus into cells to induce an immune response.
Chen Wei, a key figure behind the vaccine and a researcher at the Institute of Military Medicine of the Academy of Military Sciences, told China Central Television that data shows a single dose should provide protection for six months, and "there is no need to take an additional shot during the six-month period".
"We also created booster shots for inoculation after six months, and with a single booster, we can increase the immune response by 10 to 20 times. Based on available data, we estimate two shots can provide protection for two years," she said.
The Ad5-nCoV vaccine was jointly developed by CanSino Biologics and the Academy of Military Medical Sciences. It is the fourth vaccine manufactured by Chinese firms to get conditional approval for market use. The three others were inactivated vaccines produced by Sinovac and Sinopharm.
The majority of the leading COVID-19 vaccines, including those produced by Sinovac, Sinopharm, Pfizer, Novavax, Moderna, AstraZeneca and Russia's Gamaleya Center, typically require two doses with an interval of at least two weeks. Recent studies from the United Kingdom, however, suggested a single dose of the Pfizer vaccine can also provide strong protection.
Chen said if someone wants to save time and achieve relatively strong protection against COVID-19 before traveling abroad, the CanSino vaccine should be the first option.
The other single-dose COVID-19 vaccine in late-stage clinical trials that released data is the vaccine developed by Johnson & Johnson. The vaccine, approved on Saturday for emergency use by the United States Food and Drug Administration, also uses a modified adenovirus as a delivery agent, like the CanSino vaccine.
The Johnson & Johnson vaccine was reported to have a 66 percent efficacy rate against moderate and severe cases, along with 85 percent effectiveness overall in preventing severe disease.
Chen said the CanSino vaccine is easy to store and is generally safe. It can be kept and transported at 2 C to 8 C, making it easier to distribute and administer in developing countries. China is also capable of producing 500 million doses of the vaccine annually, "which can cover 500 million people", she said.
Another advantage of the CanSino vaccine is that it has been proved safe for people age 60 and older during phase two clinical trials, Chen said. Other vaccines approved for conditional market use in China have an age restriction of between 18 and 59.
Chen said the clinical testing for age 6 to 18 for their vaccine is also complete. "We have the data on its safety, and it is currently being reviewed by the National Medical Products Administration," she added.
In regards to the vaccine's efficacy against mutated strains of SARS-CoV-2, the virus responsible for COVID-19, Chen said they are keeping a close eye on the situation and have begun developing vaccines for these new variants. "We may not need these vaccines, but we cannot be caught unprepared."
In another development, the first batch of COVID-19 inactivated vaccine made the Wuhan Institute of Biological Products, a Sinopharm affiliate, was ready for public use on Sunday after receiving conditional market approval on Thursday. The institute said they have the capacity to produce 100 million doses per year.
The Wuhan institute said on Wednesday that their inactivated COVID-19 vaccine showed an overall efficacy of 72.5 percent after two shots, according to data from phase three clinical trials in several countries.

(China Daily)