Demand for healthcare products booms on increasing awareness
2020-09-30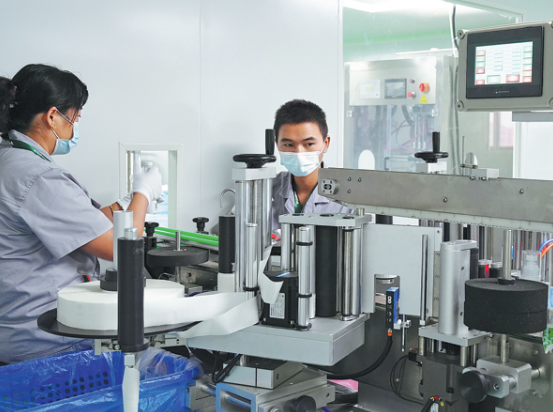 Meida employees work on a probiotics production line in Putian, Fujian province, on Monday. [Photo provided to China Daily]

COVID-19 has made people acutely conscious of good health, which is creating huge demand for products and services in the industry, experts said.
"The use of probiotics and traditional Chinese medicine (TCM) is said to help some patients recover from the disease," said Zhuang Xuliang, a researcher at the Research Center for Eco-Environmental Sciences, which is part of the Chinese Academy of Sciences.
He made the remarks on Sept 21 at a forum on the development of the biosciences and healthcare industries.
"With supportive government policy and increasing awareness in China, healthcare products will become more popular," Zhuang said.
According to a report from the Qianzhan Industry Research Institute, a market data provider, last year's sales value of healthcare products in China was 222.7 billion yuan ($32.6 billion), up more than 18 percent year-on-year. Per capita spending on healthcare products, which was 1,451 yuan last year, reached 5.6 percent of the total per capita spending in China last year.
"With demand booming, companies should better integrate their research and development of products using cutting-edge technologies. They should develop clarity on how their products can benefit consumers," said Zheng Meida, president of Meida Group, a Wuhan, Hubei province-based biosciences company, at the forum.
Established in 2009, Meida runs several businesses in healthcare, agriculture and biosciences. It has set up three biosciences R&D centers and established ties with many top institutes in the three sectors, including the CAS, China Agriculture University and Sichuan Agriculture University.
"Meida has started to tap healthcare products this year, with its development focus on probiotics that have played a vital role not only in the prevention of COVID-19 but in improving health of people in China," Zheng said.
Probiotics are live microorganisms in fermented products like yogurt and buttermilk, and in dietary supplements. They offer health benefits like good digestion when consumed. Some probiotics are included in beauty products.
Meida is cooperating with professional research centers such as Eco probiotics in Canada, to deepen the company's research in the sector and develop more beneficial probiotic products.
"Probiotics has become a buzzword in the healthcare products industry. Such products have been widely used for a long time, but research in the sector still has a long way to go," said Li Defa, a professor with China Agriculture University.
"Deepening research in healthcare products will offer more solutions to some challenges in the medical field, especially in the use of probiotics in the treatment of metabolic disorder illnesses.
"As the products have been gaining in popularity, companies should prioritize the safety issues while conducting checks on product use and the quality of their products on shelves."

(China Daily)