Drugmakers stepping up R&D efforts
2020-07-24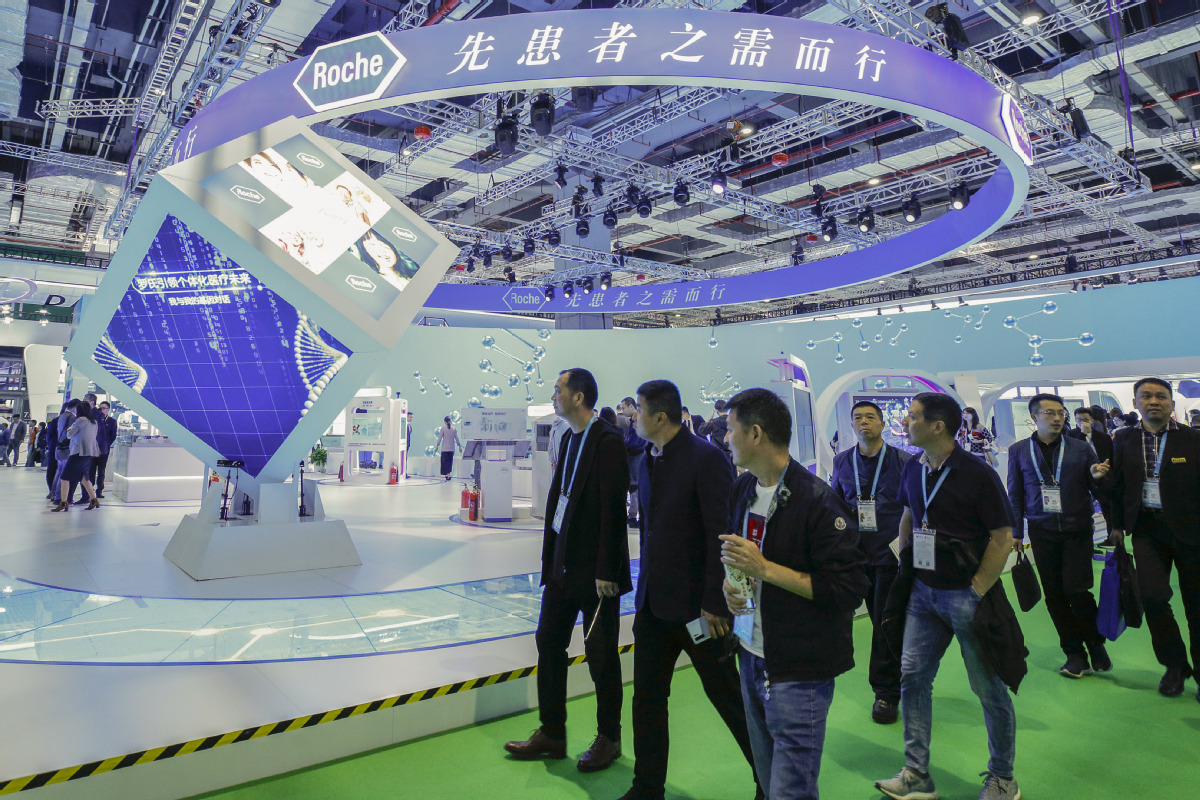 Visitors walk past the stand of Roche during the second China International Import Expo in Shanghai on Nov 8, 2019. [Photo by Zhang Yuwei/Xinhua]
Global giants join hands with Chinese partners to satisfy unmet medical needs
Riding the wave of shifting from basic to innovative healthcare in China-the world's second largest country for diagnostics and pharmaceuticals-multinational pharmaceutical businesses are further tapping into research and development opportunities ahead of the country's Healthy China 2030 initiative.
Either by bolstering their in-house R&D centers in the country or reaching out to local partners on joint projects, global pharmaceutical giants are gathering pace to turn innovative achievements into practice to satisfy unmet medical needs in China and the world, said industry insiders.
The establishment of German biopharmaceutical company Boehringer Ingelheim's China External Innovation Hub in Shanghai on July 2 serves as one example.
Based on the company's experience of research collaboration with China's top institutions of higher education and scientific research over the past four years, the hub is aimed at empowering more China-bred programs to fuel the company's pipeline and eventually benefit patients in the country as well as around the world.
Designed as a one-stop innovation transformation center, the hub is the first such in the industry to include functions of collaborated projects with institutions, licensed transactions and the provision of venture capital to collaborate with innovative candidates, the company said.
"China has been and will continue to be one of the most important markets for the company's global blueprint, and more importantly, it is (a) global innovation center and a stabilizer in the world economy," said Felix Gutsche, president and CEO of Boehringer Ingelheim China.
"When Asia is becoming the innovation center for biopharmaceutical research and China's strength rapidly elevates in this field, we wanted to better grasp the opportunities brought by innovative power originated locally," he said.
After establishing the first foreign-funded R&D center in Shanghai in 2004, Swiss pharmaceutical giant Roche completed a new innovation center in the city in October.
Severin Schwan, CEO of Roche Group, said with this center, the company is committed to building Roche's third strategic global center in Shanghai along with Basel, Switzerland, and San Francisco, the United States.
Representing an investment of 863 million yuan ($123.7 million), the innovation center focuses on research and early development of innovative drugs in areas of immunology and the treatment of inflammation and infectious diseases. The center will further bring China's R&D to the world stage by developing innovative drugs to meet patients' unmet needs.
It also has functions in personalized healthcare, big data and artificial intelligence that will build collaborations with local medical institutions and universities to explore new research orientations based on data analysis.
"In the past, the way it worked was that medicines were discovered in the West and then brought into China. Now, with more talent returning to China and new talent nurtured in the country, I'm convinced that we'll see a rising number of medicines discovered and developed in China," Schwan said.
It was also exciting to see that not only foreign enterprises are bringing innovative medicines from outside, but also domestic players are investing in innovative drugs, he added.
British-Swedish pharmaceutical multinational AstraZeneca built the Wuxi International Life Science Innovation Campus jointly with Jiangsu province's Wuxi government and the Wuxi National Hi-tech District late last year to introduce international partners as resident companies to gather global healthcare wisdom and jointly build a life science innovation ecosystem.
Boehringer Ingelheim started its collaboration in R&D with Peking University in 2015, followed by Tsinghua University and institutes affiliated with the Chinese Academy of Sciences. Some of the results from such joint projects were published in international academic journals and influenced the company's early-stage R&D pipeline.
"Such preparation for the early-stage R&D pipeline also paved the way for the goal of making at least 70 percent of our products first-in-class among those of the same kind," said Zhang Weiyi, head of the company's China external innovation hub.
In addition to collaborations with academic institutions in emerging sciences and cutting-edge technologies, the external innovation hub also set up functions of business development with other enterprises to import projects that are closer to the clinical stage into the company's global R&D pipeline and attract venture capital to support innovative ideas to be turned into products for clinical use.
"Combining our innovative experience and the partners' unique techniques in their respective fields, we aimed to assist start-ups to avoid detours and provide tools in each stage of developing projects through early-phase research, collaboration and investment to jointly develop innovative medicines and therapies and eventually benefit patients," Zhang said.
Apart from the company's key business areas, including oncology, tumor immunization and immuneregulation, the external innovation hub will also look into novel fields representing needs and orientations in the future, such as anti-infection, regenerative medicine and gene therapy modalities, she said.
After China completed its new round of 10-year healthcare reform, which laid more emphasis on having sophisticated and innovative therapies available and an accelerated review and approval process for innovative drugs, Boehringer Ingelheim-which achieved double-digit growth in the first quarter this year despite the coronavirus impact-said it will invest $509 million in the China market over the next five years, with clinical R&D and expansion of its biopharmaceutical production base in Shanghai's Zhangjiang Hi-Tech Park as a focus.

(By Zhou Wenting in Shanghai | China Daily)