Exhibition introduction
Hospitalar
is the most relevant innovation platform Institutional Support for showcasing innovations in technology, processes and ideas. A stage for the generation of business opportunities and technological development, Hospitalar is a meeting place for the entire local and foreign healthcare market. It brings together buyers and vendors and fosters networking and partnerships that will generate even more business.
27 years of history
Hospitalar is now about to stage its 27th edition and strengthens its position as a source to create business opportunities and improve the segment's technological development. Its credibility and added value place the event in a privileged position as a major meeting place for the entire national and foreign markets and also as an important platform to showcase innovations in technology, processes and ideas.
Devoted to growing the industry and generating good business deals
Hospitalar connects the market and brings together buyers and suppliers of the sector, promoting networking and partnerships that have generated even more businesses.

Who Visits
Doctors, nurses, hospital officers and managers, laboratory and practice technicians, hospital input manufacturers, distributors, agents, students, healthcare facilities and other institutions, both private and public, working in the field.

Who Exhibits
The event is the meeting point for distributors and suppliers of Hospital equipment, Medical technology, Laboratory equipment, Emergencies and transportation, Orthopedics and physiotherapy, Medications and hospital pharmacies, Informatics and communications, Projects, installations and constructions, Hospitality and furniture, Uniforms, linens and towels, Laundry, Meals and catering, Surgical centers, Medical consumables, Infirmaries and monitoring, Traumatology and post-operative recuperation, Home health care, Specialized medical literature

Hospitalar is a multisectoral event, which covers all health sectors and provides good business throughout the production chain.
The future of health is in Hospitalar as it brings the main releases and the latest news of the sector. Join us and get access to information and new partners to foresee business opportunities and get ahead in all areas represented by the seven sectors of the fair.

Top reasons to be an exhibitor
Hospitalar is a 360° marketing platform that combines printed and online campaign activity all year round.
You will make many face-to-face connections with qualified visitors over four days –more than 90 thousand professionals come to the fair.
You can associate your brand with relevant content through forums such as HIMSS@Hospitalar, the International Congress on Health Services and others.
You will gain an advantage over your competition by making your company more visible.
It is the ideal platform to launch your solutions, technologies, products, services and equipment.
You can interact with decision makers from major hospitals, practices and market players.
Contact Us
Shanghai Dongsin Expo Group

Address:Room 706, Building 1, route 1505, Lianhang Road , Shanghai China
Contact person:Dingding
Tel:0086 21-55139199
Fax:0086 21-51686946
E-mail:medica@dongsinexpo.com
order exhibition advisory services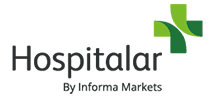 2024.05.21-05.24
Sao Paulo, Brazil
The largest and leading medical Trade show in Latin America
Hospitalar
Organizers Informa Markets
Period Annually
Industry Medical
Place Sao Paulo, Brazil
Scale 35000sqm
The industry related news