Exhibition introduction
MEDICAL FAIR INDIA is India's leading Trade Fair for the medical and healthcare industry. For the last 27 years, Medical Fair India has been successfully addressing the various needs of Hospitals, Health Centres & Clinics.
5 reasons to attend MEDICAL FAIR INDIA
Business
MEDICAL FAIR INDIA is India's no. 1 exhibition and conference for healthcare, which act as a platform where connections are made and business relationships are nurtured.
Positioning
With participation from over 20 countries, MEDICAL FAIR INDIA provides an opportunity to position your brand among competitors and further increase your level of visibility.
Trends
MEDICAL FAIR INDIA is well known for its ability to detect trends and respond to market impulse.
Solutions
Find diverse solutions to your diverse healthcare needs.
Innovations
Explore how the latest digital technologies and new approaches shaping healthcare.
MARKET FACTS
Indian Healthcare is experiencing a new wave of opportunity
The Indian healthcare sector is diversifying and opportunities are emerging in every segment. The following emerging trends are changing course of the industry:
The change in the government's role from provide to payer has expanded the financial risk protection coverage to the mariginalised.
Private sector partnership through health PPPs are gradually gaining acceptance, thereby improving access to care.
The significant demand-supply mismatch has led healthcare to emerge as an attractive sector for PE investements.
Investment in the Healthcare industry in India
Due to its strong market potential, investment in India's healthcare infrastructure is set to rise, benefiting hospitals, healthcare R&D and healthcare education in the country.
By 2020, India is expected to rank amongst the top 3 healthcare markets in terms of incremental growth
By 2020, the Healthcare Information Technology market is expected to grow 1.5 times from USD 1bn currently
By 2022, diagnostic market is expected to grow at a CAGR of 20.4% to reach USD 32bn from USD 5bn in 2012
Over 2015-20, the In-Patient market is expected to grow at a CAGR of 13%
Show profile
Main product groups
Medical technology/ Healthcare IT
Hospitals/ Healthcentres equipment and products
Clinical laboratory and analytical equipment and products
Pharmacy and dispensary equipment and furniture
Rehabilitation
Components
Services
Hospital infrastructure
Target groups
Doctors (surgery), practicing physician
Veterinarian
Dentists, dental surgeons, dental technicians
Doctors (hospitals, health centres, sub-centres other medical establishments)
Physiotherapists, ergotherapists
Hospital directors/managers
Hospital administration managers and staff
Biologists, microbiologists, bio-chemists, chemists, process engineers
Non-Government Organizations (NGOs) for rehabilitation aids
Visitors with medical pharmaceutical vocational training (e.g. medical laboratory assistant, technician, doctor's assistant, nurse, carer)
Visitors from industry/manufacturer
Distributors/traders
Visitors from academies and universities
Visitors from government or international agencies and associations
Opthalmologist
Contact Us
Shanghai Dongsin Expo Group
Address:Room 706, Building 1, Route 1505, Lianhang Road , Shanghai,China
Contact person:Dingding
Tel:0086 21-55139199
Fax:0086 21-51686946
E-mail:medica@dongsinexpo.com
order exhibition advisory services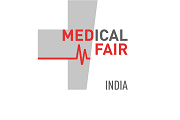 2023.04.27-04.29
New Delhi, India
India's no. 1 exhibition and conference for healthcare
MEDICAL FAIR INDIA
Organizers Messe Düsseldorf GmbH
Period Annually
Industry Medical
Place Pragati Maidan New Delhi
Scale 19000m2
The industry related news