Exhibition introduction
MAGHREB HEALTH
4-6 December 2021, Palais des Expositions, SAFEX, Algiers, Algeria
Maghreb Health
is the leading and largest international trade fair for medical products, equipment, technologies and services in the MAGHREB region.
This unavoidable event, which alone brought together more than 6,000 professionals and decision-makers from the public and private sectors throughout the Maghreb region and the Middle East and Africa countries.
For its 4th edition from 4 to 6 December 2021, at the Palais des Expositions, SAFEX, Algiers, Algeria
,
Maghreb Health
is undergoing a makeover by introducing three conferences accredited by the CME:
Imaging and radiology

health care management

the medical laboratory
In addition to being an important platform for manufacturers, distributors and service providers in the medical industry, Maghreb Health is the best way to close new deals and win new markets by meeting with key decision-makers in the healthcare industry as well as the largest exhibitors, buyers and manufacturers in the Maghreb region and countries in the Middle East and Africa.
In addition to the exhibition, you will be able to attend various conferences and practical training sessions on the latest state-of-the-art medical equipment and devices.
Position your brand in strength by participating in the 4th edition of the Maghreb Health 2021 exhibition and meet thousands of potential partners in the health sector.
Contact Us
Shanghai Dongsin Exhibition Service Co. Ltd.
Address: Room 706, Building 1, route 1505, Lianhang Road , Shanghai China
Contact: Ding Ding
Tel: +0086 21-55139199
Fax: +0086 21-51686946
Website: www.dongsinexpo.com
Email: dingding@dongsinexpo.com
order exhibition advisory services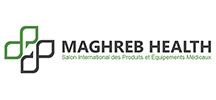 2021.12.04-12.06
Algiers, Algeria
the leading and largest international trade fair in the MAGHREB region
MAGHREB HEALTH
Organizers ATEX International Exhibitions
Period once a year
Industry medical
Place Palais des Expositions
Scale
The industry related news