Jiangsu Maslech Medical Technology Co., Ltd
favorite supplier

verified

Ordinary Member
Jiangsu Maslech Medical Technology Co., Ltd

favorite supplier

Disposable Laryngoscopes

FOB Price : Get Latest Price

Min.Order : 3/4Piece(s)

Payment Terms : T/T,Others

contact now

Manual Suction Unit

FOB Price : Get Latest Price

Min.Order : 1Piece(s)

Payment Terms : T/T,Others

contact now

Disposable Biopsy Forceps

FOB Price : Get Latest Price

Min.Order : 1 Piece(s)

Payment Terms : T/T,Others

Clip Appliers

FOB Price : Get Latest Price

Min.Order : 1 Piece(s)

Payment Terms : T/T,Others

Disposable Retrieval Devices

FOB Price : Get Latest Price

Min.Order : 1 Piece(s)

Payment Terms : T/T,Others

Disposable Sheath Trocars

FOB Price : Get Latest Price

Min.Order : 1 Piece(s)

Payment Terms : T/T,Others

Disposable Suction Irrigation Devices

FOB Price : Get Latest Price

Min.Order : 1 Piece(s)

Payment Terms : T/T,Others

Implantable Ligating Clips

FOB Price : Get Latest Price

Min.Order : 20 Piece(s)

Payment Terms : T/T,Others

Disposable Cervical Brush

FOB Price : Get Latest Price

Min.Order : 1 Piece(s)

Payment Terms : T/T,Others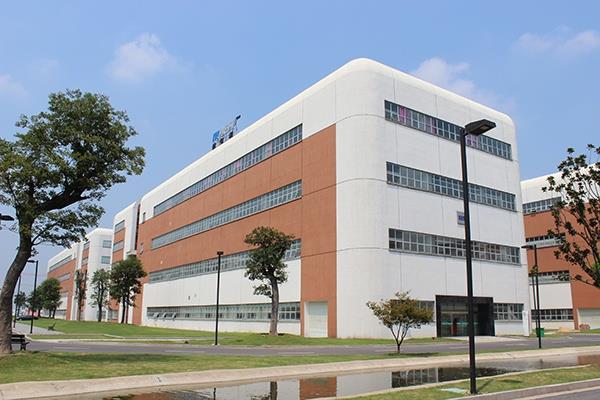 Jiangsu Maslech Medical Technology Co., Ltd
Maslech is located in China Medical City which is China's first national medical high-tech zone. The registered capital of Maslech is RMB30,000,000 and the credit grade is AAA . Maslech is a high-tech enterprise which has basic research, application development and achievement transformation. She specializes in R&D and production of laparoscopic surgery, endoscopic,anesthesia,emergency,gynecology,films and other mid-and-high-end medical device products. Maslech has 8,000m2 production and office base including 5000m2 GMP standard workshop, full facilities laboratory, clinical research base and all kinds of advanced production equipments and scientific instruments.
We have achieved ISO13485 quality management system certificate for medical device and most products are certificated by CE.
Maslech has done international business for more than 10 years. We implement ERP system control process and produce in ISO7 standard purification workshop. We won the advanced enterprise honor of safety production work in China Medical City. Relying on the huge sales network and flexible sales system, we has covered the whole county and exported to more than 40 countries and regions in Middle East, Far East, Southeast Asia, Europe, America, Africa and Oceania. Maslech has good reputations from both the insiders and the terminal users.
+ More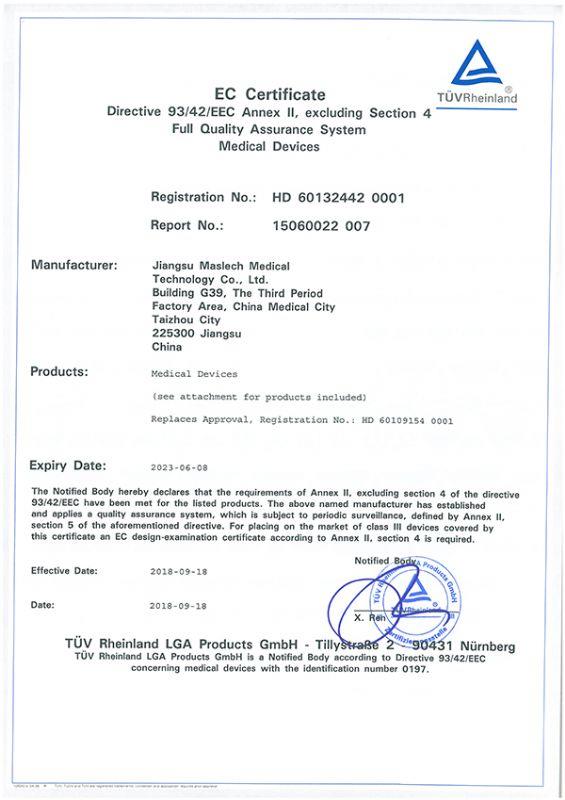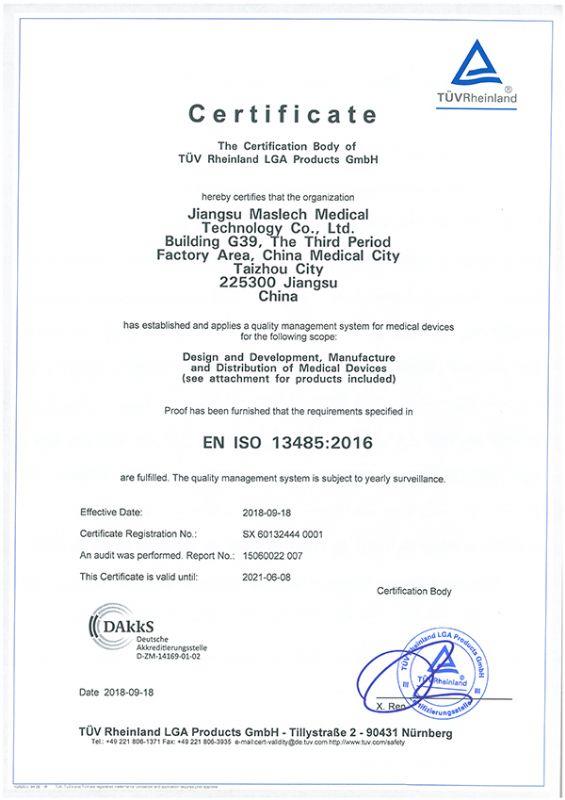 leave a message
phone :

view details

address :

Building G39,The Third Period Factory Area,China Medical City, Taizhou City ,Jiangsu Province,P.R.China

postcode :

225300

website :

www.china-maslech.com